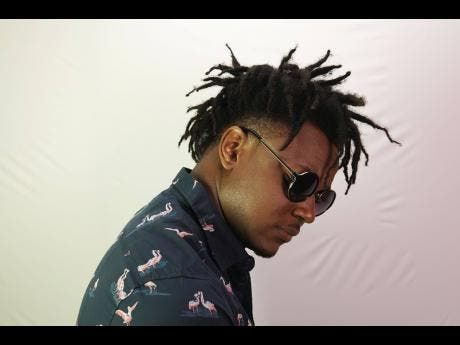 Fresh off a short tour in Switzerland, past Digicel Rising Stars competitor Nathaniel Hewitt, more popularly known as Natel, is back in studio, putting in long hours. 
Natel was featured on Bellevue, a track recorded by Swiss reggae/hip-hop artiste Stereo Luchs, that recently earned Gold certification for selling 10,000 copies in the European country. The success of the single earned the singer a chance to join the international entertainer on four shows across Switzerland. 
It is another one of the achievements that he calls, "a step in the right direction." 
The singer/songwriter also released the Patience mixtape, a nine-track production that has helped to re-introduce him to the Jamaican audience. 
"I have been recording for years, writing music for a lot of artistes, mostly behind the scenes," Natel said. 
"Persons will never know whether I am satisfied or dissatisfied with my career because there is always a big smile on my face. I know I am going to be a superstar. It is part of my DNA." 
He said that the title track, Patience, is a personal testament to his experiences in the music industry and lessons he learnt from his father, Correll Hewitt, a reggae music veteran. 
"The lyrics clearly say. 'It's not the wait that you wait, it's patience'," he said, "For me, it has never been about getting a 'buss' or winning a competition, but creating a legacy by putting in the work." 
Part of the legacy he speaks of includes writing music for other entertainers, including Mr Vegas, Tarrus Riley and Samantha J. He has also created Natel Music Records label despite offers for him to sign with established labels. 
"I don't believe in signing a contract that has put many artistes in a 360 deal. I feel I can build more from the ground up by investing in myself rather than earn a quick money," he said. 
The singer said he has never had a nine-to-five job. When he left his home in Manchester to live in Kingston, the intention "was to make something of my talent." 
Meanwhile, Natel is working to complete a second compilation of songs under the guidance of seasoned producers/musicians like Dean Fraser. 
"With everything, I am trying to be as strategic as possible, so the focus at the end of the day will be on me and my music," he said, while noting that Ghana will get a chance to meet and hear him live at the JAGHA (Jamaica-Ghana) Festival next month. The show also features reggae veteran Freddie McGregor.