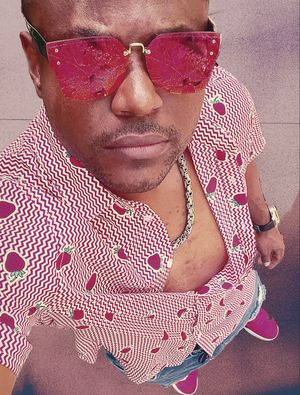 Many may remember Natel from the Digicel Rising Stars competition back in 2005. The singer was a runner-up that year and has been working to set himself apart in the music industry ever since. It has been 15 years, and although his name may not be as popular as some of the competition's more established alumni, Natel has built an enviable career not just as a singer, but as a songwriter and producer. 
"I've been writing and producing a lot of songs. Too many to mention right now, but some of them are very popular because they are hits. I have my own label, Natel Music Records, so I've also been releasing music under that label," he said. "I've also been touring. I just came off a US tour with Tarrus Riley, Dean Fraser, and Shane Brown with the Black Soil Band, which was amazing. It ended on March 1, and we were supposed to go on another tour in July, but yuh done know how the pandemic vibes go right now. So I'm using the time to actually just record and create and vibe while staying safe." 
The singer, who recently collaborated with established entertainer Tanya Stephens on the track Perfect High, says that although chatter surrounding his name may not be loud, he has been putting in the work. 
"She (Stephens) is my favourite female artiste, and fi get da DM deh and exchange number and make it happen, dat show me say me must a do supmn right or have some form of talent because Tanya don't just do stuff. She does things she love and work with people weh ah guh make sense, so that's a compliment in itself," he said. "I've surpassed all the things mi wish mi coulda achieve inna music before I started music. When I keep putting in the work and keep moving forward, I realise there's more to this music and more to this industry than just doing it because me love it. To do music full time, yuh affi think of it as a business, and a lot of us starting out don't really see that." 
THE BUSINESS ASPECT 
He continued, "Maybe nowadays the yutes dem weh starting out will see the business aspect of it, but for me, when I just started out, I was doing it because it make me feel good. It was my therapy. Then I hoped to change some people's lives and make dem happy. But moving forward, yuh realise if yuh really a guh do music and have longevity, there is more to it. So now, me have bigger dreams and a whole heap more things me woulda love fi achieve." 
Natel, who released his Patience mixtape last year, is gearing up to drop the deluxe edition of that project. He says that as an extension to the original, Patience Deluxe will feature a few more songs, including his latest single, Wake Up. 
"I'm looking to release Patience Deluxe in the next four weeks. I also have a song with The Carey James called Ringtone and a song with Konshens that I will be doing a dancehall remix to soon. It's called Make Money, so people can look out for that soon. We have a whole heap more things in the pipeline, too, and from we a link wid Dean Fraser and Tarrus Riley, the possibilities are endless."