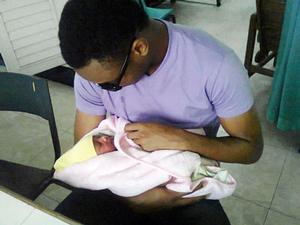 Recording artiste Natel is now a father. 
The proud father welcomed a baby girl named Sahi Hewitt into the world on April 14. 
"It's a great feeling. My father told me before she was born that this is a real blessing. She probably is gonna be a new superstar in the family so I give thanks. I love kids so this is the cherry on top," Natel told THE STAR. 
Natel, whose given name is Nathaniel Hewitt, says that his little bundle of joy has motivated him to work harder. According to him, "Everything has changed, my energy has changed. I can't sleep, I just want to work, I've never worked so hard before. The business part of me tun up. I love music, so now I'm stepping it up business wise. Me and my management team are putting things together," he said. 
The artiste also recently released a mixtape called 'Miles Away' and says the reception so far has been incredible. 
"I've had 15,000 persons downloading the mixtape within one week, people have also been sending me messages on Twitter and Facebook. When mi see that mi just say to myself 'you nuh dat bad after all, do you thing yute'," he said jokingly. 
Putting the rumours to rest regarding his feud with artiste Vegas, Natel states that what transpired was a misunderstanding. 
"We had a misunderstanding, but everything alright now. Vegas is like my brethren, he is like a big brother and in any family you have quarrels and misunderstandings, but we are real men and we know not to mess up our family. We are over it now. We just did Layers of Soul recently and we also just came back from a show in Guyana," he said. 
In the meantime, Natel says he is in studio putting things together so that persons can see a different person. 
"I don't want people to see the same Natel from Rising Stars, I'm more mature now. I feel like I'm ready and my manager Mickey Bennett also feels like I'm ready," he said. 
Natel says fans can look out for his new single Si Mi Yah on the Love Bug rhythm and also Can't Be which is slated to be released soon. 
"I'm going to be shooting videos for those two new singles soon, but in the meantime, the fans can look out for me all over Jamaica. I'm also putting things together for the overseas market," he said.