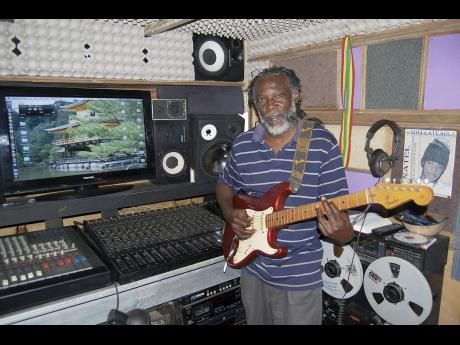 Dave Lindo, Gleaner Writer 
ROYAL FLAT, Manchester:DRIVING THROUGH Royal Flat in Manchester, one might notice the scenic Culture Park, which lights up the community with its beautiful flowers and buildings, all set in a relaxing atmosphere. 
This is the work of veteran musician Correl Hewitt who, in recent times, became popularly known as the father of Digicel Rising Stars' standout, Natel. 
Music runs in the blood of Hewitt, as he explained, "My father played the guitar, so, too, my older brother Lascelles, who is an accomplished jazz guitarist. We are also cousins of the famous guitarist Ernie Ranglin." 
Hewitt was born in Royal Flat and grew up with a passion for music. "I loved the music from I was a very tender age. I used to make my little guitar out of pan with fish line. I love it so much that I bought my first box guitar at a very tender age." 
Hewitt added: "My father never wanted us to play because in his time, he didn't get anything from music. I used to listen keenly when they (brother and father) were playing, and when my father leave home, I used to catch my practice."
He later honed his skills playing for the Thunder Bolt band in Mandeville in the early 1980s. "Then mayor of Mandeville, Cecil Charlton, used to go in all the constituencies with float parades around August doing shows where the band (Thunder Bolt) used to play," Hewitt disclosed. 
With his guitar skills improving, Hewitt had a desire for greater things. "I just thought I could go further. So one day, I just took a bus and went straight to 'Ochi' and I realised that that's where I should have been for years." 
Hewitt added: "A guy that did cabaret was listening to me playing one day. He told me that they needed a guitarist at Ruins, in those days, Buccaneer Cascade. I went and I told the manager that I ws a guitarist and I was looking a job. After playing for him, he fired the whole band that was there. The manager gave me his car, a Toyota Crown, and told me to go find some musicians. I went for Gibby from 809 band, Winston Anderson, a keyboard player and singer called Thatch Hat, and went back." 
That band was the resident band at Buccaneer Cascade for three years. "I watched the Jamaica Grande Hotel being built. A lot of bands were lined up to get the job as the resident band there. Tony DaCosta Affair put a band together to get the job. When we auditioned, we got the job and were the first band that played there. We played for people like Totlin Jackson, Archie Lewis, ET Webster, AJ Brown, and many more." 
Hewitt became a household name on the north coast as a top musician. He worked with great local and international musicians and producers, including Jack Ruby, UB40, and the Rolling Stones. "I have a guitar that Keith Richards from the Rolling Stones gave me. He autographed it and put it around my neck." 
After playing music for 25 years on the north coast, Hewitt moved back to Royal Flat. "I had just built a house at Shaw Park Gardens up in the hills. Natel had passed his exams for Knox College and I know that Knox was a good school, so I just gave up everything, including my job, to be there for him," Hewitt explained. 
He stuck to his music, and with big land space at his family home in Royal Flat, he built the culture park. The park has an art gallery where Hewitt showcases his paintings. It has a restaurant and bar and a stage area, all in a beautiful garden. "I built the entire complex by myself - the mason work, carpentry work, everything," he said. 
"I formed the Breeze band, using some of the youths around the area, and we had live band sessions where many big-name artistes as well as up-and-coming artistes showed there talents." 
Hewitt also built a recording studio at the complex. He also teaches guitar.